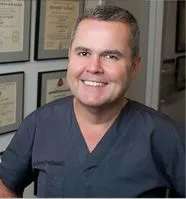 Meet Dr. Christopher T. Coad, MD FACS:
When it comes to vision correction procedures with the most advanced technology, you're in the best hands with Dr. Christopher Coad, MD, FACS the board certified director of ophthalmic care at Chelsea Eye Ophthalmology. Dr. Coad will perform your procedure as well as your preoperative and postoperative eye care. His dedication to your well-being and successful outcome is quickly apparent when you meet him.
Dr. Coad has been performing laser vision correction for over 20 years with more than 25,000 vision correction procedures and has been trusted to perform laser vision correction on US fighter pilots, airline pilots, Olympic athletes, professional athletes and renowned actors. He has been featured in newspapers and television and lectures as an authority on laser vision correction and advanced cataract surgery.
Dr. Christopher Coad is an attending physician at the New York Eye and Ear Infirmary and part of Continuum Health Partners. He graduated Magna Cum Laude from the University of California, San Diego and was awarded his MD from the Baylor College of Medicine in Houston, Texas. Afterward, he interned at St. Vincent's Hospital and Medical Center in New York City and completed his postgraduate training in Ophthalmology at the New York Eye and Ear Infirmary in New York, NY.
Dr. Coad is board certified and certified on several laser platforms including the advanced VISX and Intralase lasers for vision correction of nearsightedness, farsightedness, and astigmatism. Keep in mind that he has been performing vision correction procedures such as LASIK, PRK and LASEK since they were first FDA-approved in the early 1990's. He is one of the only ophthalmologists in New York City who offers Visian ICL for the correction of mild to severe myopia (nearsightedness), and is also a leader in refractive cataract surgery. He offers multifocal lens implants such as ReSTOR and Tecnis, accommodative implants like Crystalens and astigmatic correcting Toric implants. He was chosen for an international ophthalmology fellowship with ORBIS, the only international flying eye institute and is also listed in the 2015 New York Super Doctors and 2015 America's Top Ophthalmologists.