iLASIK In Chelsea, New York, NY
iLASIK is a revolution in LASIK surgery.
As technology has improved, so have many procedures in the medical field. One procedure that is constantly developing is LASIK. A form of LASIK known as iLASIK uses the best and most advanced LASIK technologies to give you the most desired results for a broader range of vision imperfections to clear up your vision without the use of glasses or contacts. iLASIK is blade-free and completely safe and is even trusted by NASA.
How iLASIK Can Help Clear Up Vision
LASIK surgery is constantly improving, and your LASIK doctor is determined to give you the best results by using the best procedure possible. iLASIK is completely customized to the unique characteristics of your eye and is one of the safest procedures offered. It's even quicker and only takes a few seconds to correct each eye.
If you've been told you aren't eligible for LASIK surgery, you may want to ask your LASIK specialist if you're qualified to receive iLASIK. It's suitable for more people and highly effective. First, your eyes will be painlessly measure with a scanning technology that can create a 3D map of your eyes so that your iLASIK surgeon can create a custom treatment that works for your eyes. Using laser technology, your doctor will then create a flap in the cornea to create an opening to perform iLASIK.
In no time at all, your procedure will be over and you'll be on your way home and to more clear vision without the use of other devices. Once your eyes are healed, there's a high chance that you'll have 20/20 vision and may even have better night vision!
Contact Your iLASIK Doctor Today
If you've been told LASIK isn't right for you, ask your doctor about iLASIK. Contact your LASIK eye doctor at Chelsea Eye Ophthalmology in New York, NY, and serving Chelsea, NY, at (212) 220-0066 to schedule a consultation today.


Contact us for a complimentary evaluation today!
---
Why you should choose Dr. Coad:
As Seen on:

Key Features:
iLASIK combines the two most advanced LASIK technologies in the world.
iLASIK is the first vision correction procedure to be 100% customized to the unique characteristics of each eye.
iLASIK is the only laser eye surgery approved by NASA and trusted by all branches of the US military.
iLASIK can correct the broadest range of vision imperfections, so more people than ever can enjoy clear vision without glasses and contacts.
iLASIK has been over a decade in the making and is trusted by thousands of doctors and millions of patients worldwide.
When it comes to LASIK surgery, iLASIK is clearly an excellent choice.
For ultimate precision, safety and results – insist on iLASIK
With iLASIK – the NASA-approved, blade-free, customized laser eye surgery at Chelsea Eye Ophthalmology – you can be sure you're getting the safest and most advanced LASIK surgery in the world.
iLASIK is:
100% blade-free – combines all the latest all-laser technology.
100% customized – tailored to the unique characteristics of your eyes.
Incredibly safe – one of the safest medical procedures in the world.
Highly effective – the majority of patients experience 20/20 vision or better.
Fast & virtually painless – it only takes a few seconds to correct each eye.
Suitable for almost everyone – more people treated than ever before
At Chelsea Eye Ophthalmology we can correct the broadest range of vision imperfections possible. Even people who were previously unsuitable for LASIK surgery may now be able to enjoy the freedom of life without glasses and contacts – thanks to the revolutionary technology of iLASIK.
iLASIK laser eye surgery is fast, safe and proven to deliver exceptional vision quality. What are you waiting for? Book your complimentary iLASIK appointment today!
---
How Does iLASIK Work?
iLASIK combines the most advanced technology for measurement in the world, and two of the world's most advanced computer-guided LASIK lasers, into one safe and highly effective procedure.
Your personalized iLASIK procedure :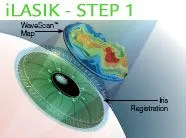 Step 1: Unique vision profile
First, we use the most advanced measurement technology in the world to painlessly measure your eyes. WaveScan technology creates a 3D map of each eye, detecting even the most minute imperfections so that your iLASIK surgeon can custom-fit your treatment to your individual eyes.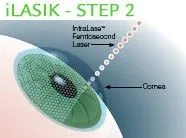 Step 2: Personalized iLASIK flap
Next, the first of two lasers – called an IntraLase – is used to create a flap in your cornea (the surface of your eye), which is folded back to perform iLASIK. This blade-free method delivers outstanding results, with more patients achieving 20/20 vision or better, and better night vision as well.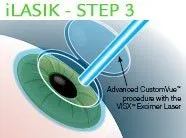 Step 3: Custom laser vision correction
Finally, the Advanced CustomVue laser corrects your vision to the exact specifications of your unique vision profile. This laser offers the highest level of precision, and literally locks onto your eye, reacting automatically to the finest movements during surgery to provide a safe and accurate result.
Now that you know what's involved in the iLASIK procedure, you should book your complimentary iLASIK appointment and find out if you are a good candidate for iLASIK.
What are you waiting for? With the safety, precision and effectiveness of the world's most advanced LASIK surgery, there's never been a better time to have laser vision correction. If you want to find out if you're an ideal candidate for iLASIK then call our New York LASIK Surgeon & LASIK Doctor's office today at (212) 220-0066.